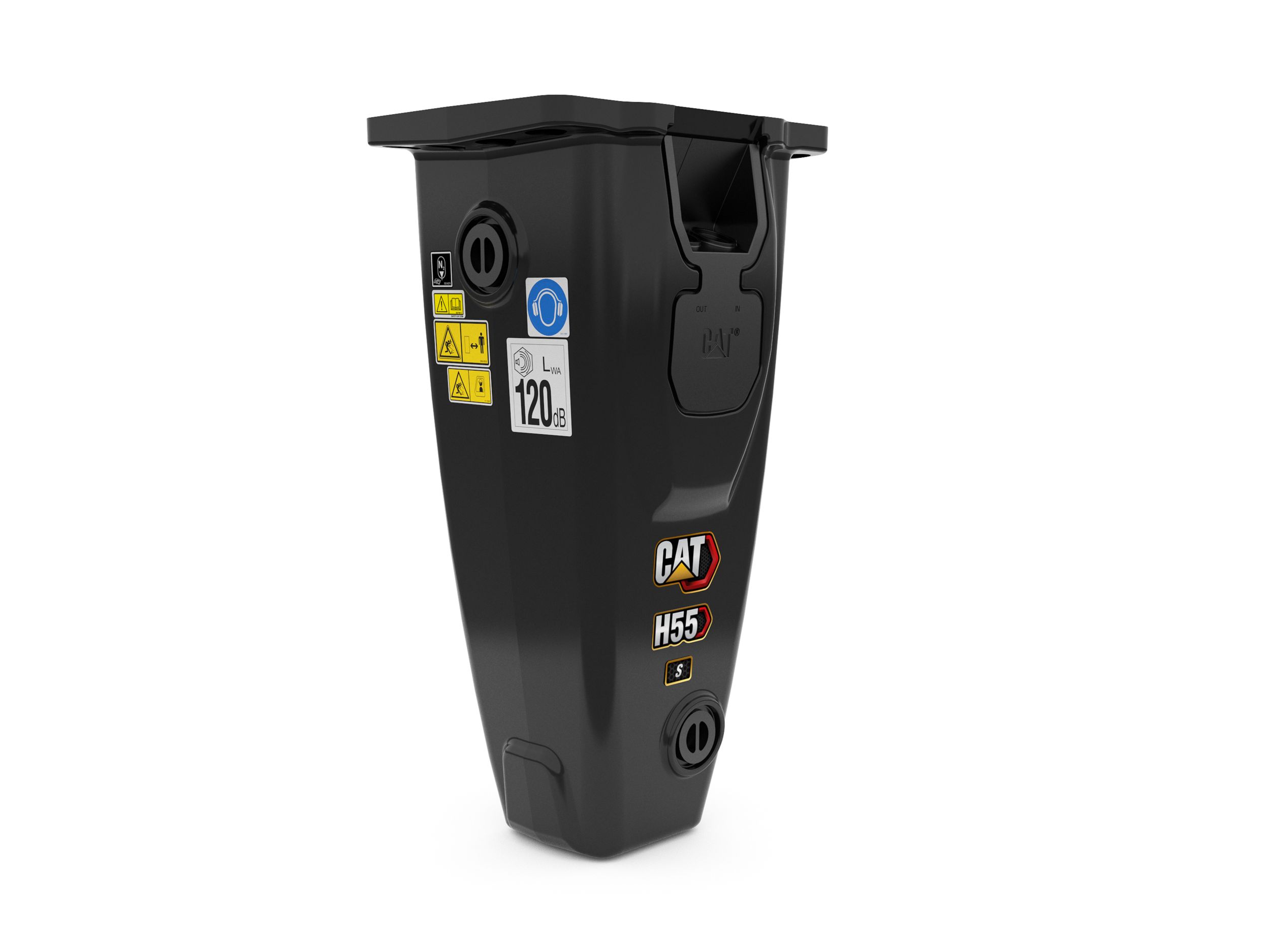 Hammers
H55s Hydraulic Hammer
Operating Weight - With Tool
760.6 lb
Energy Class
599.6 ft·lbf
Machine Class
93 HP
3-6 Ton Mini Excavators, 216-299 Skid Steer/Compact Track Loaders
SPECIFICATIONS
Cat® Hammers for Skid Steer Loaders, Multi Terrain Loaders, Compact Track Loaders, Mini Excavators and Backhoe Loaders are high performance breakers, designed for maximum performance on demolition, construction and road work.
Detailed Equipment Specifications
Operating Weight - With Tool

760.6 lb

345 kg

Energy Class

599.6 ft·lbf

813 J

Machine Class

93.0 in

93.0 mm

3-6 Ton Mini Excavators, 216-299 Skid Steer/Compact Track Loaders

Tool Shaft Diameter

2.3 in

58 mm

Impact Frequency

93.0 in

93.0 mm

600-1680 bpm

Minimum Operating Pressure

1,450.4 psi

10,000 kPa

Minimum Carrier Weight

5,500.5 lb

2,495 kg

Optimal Hydraulic Flow

93.0 in

93.0 mm

30-85 lpm (8-22 gpm)

Overall Width

13.6 in

346 mm

Overall Length

17.8 in

451 mm

Overall Height

43.6 in

1,108 mm

Height - Without Tool

30.9 in

784 mm

Sound Level

93.0 in

93.0 mm

120 dB

Mounting Bracket Size

93.0 in

93.0 mm

Large
Application
Used in a wide range of construction and light demolition applications - such as breaking concrete sidewalks and driveways, pavement, roads, masonry, site prep and landscaping, and breaking frozen ground for utility repairs.
Silenced
Fully enclosed, silenced housing lowers overall noise level for a quieter, safer job site. Internal power cell is protected, designed and engineered to eliminate stress points.
Flat Top/Top-Mount Style
Flat top/top-mount style provides a larger work area and excellent operator visibility with a common footprint and hole pattern for optimum versatility. Top-mount style increases impact power by keeping breaker force and stick force in line. A top-mount bracket will transfer back significantly less recoil and bending stress into the end of the stick, resulting in reduced impact on machine structures. Full complement of mounting brackets is available to suite coupler or pin-on preference.
Auto Shut Off (ASO)
ASO instantly stops the piston when breaking through material, preventing blank firing, a key contributor to hammer wear. Internal stresses are reduced, hammer is protected regardless of operator skill level.
Tri-Suspension System
Tri-Suspension system comprises the suspension jacket, the upper and lower buffers. Suspension aligns power cell and gives manageable, smooth performance.
Standing Height Grease Point
Standing height grease point makes required maintenance comfortable and easy to perform.
Easy to Tune & Maintain
Gas ports and valves are easy to check and charge while hammer is mounted to machine.
Ports Positioned for Hose Protection
Improved routing protects against force and dirt during impact, eliminating downtime.
Hammer Tools
Tools are heat-treated, matched to piston diameter and provide optimum mass to deliver full blow energy.
Machines built tough and ready to run in rugged applications

Trusted advisors to help you find and maximize your equipment

Wide inventory of rental equipment that lets you try before you buy

Full service and support to ensure performance and longevity
YOU MIGHT ALSO BE INTERESTED IN