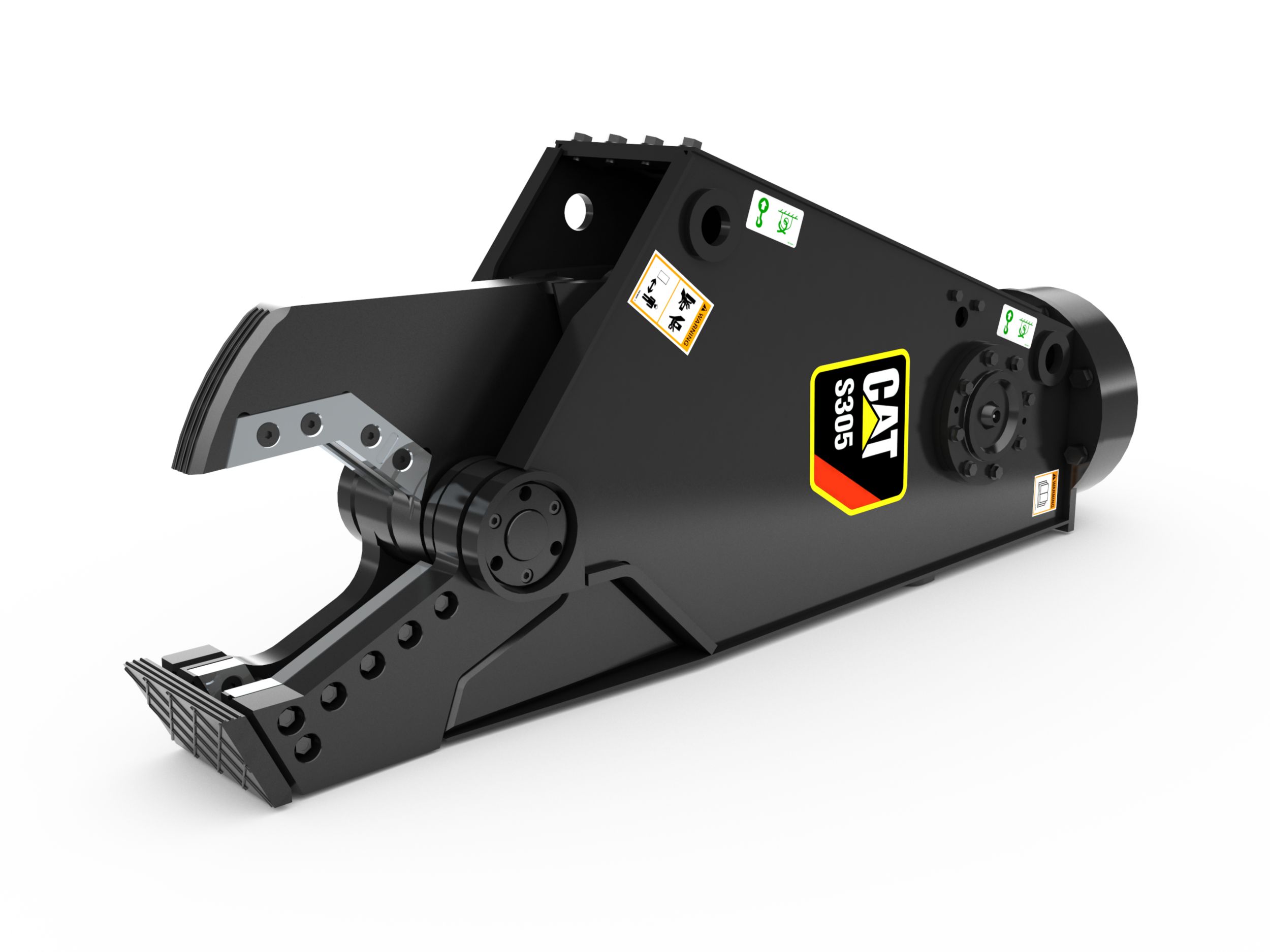 Mobile Scrap & Demolition Shears
S305 Mobile Scrap & Demolition Shear
Rotation Circuit - Maximum Flow
5.3 gal/min
SPECIFICATIONS
Ideal for interior demolition tasks, the compact S305 mounted on a Cat® Skid Steer Loader or Mini Excavator goes where no other demolition tool can. Remove conduits, wiring and interior fixtures.
Detailed Equipment Specifications
Tip Force

43.3 Sh Ton

385 kN

Jaw Width - Moving

2 in

60 mm

Rotation Circuit - Maximum Flow

5.3 gal/min

20 l/min

Cutting Circuit - Maximum Relief Pressure

3,625 psi

25,000 kPa

Jaw Width - Fixed

9 in

230 mm

Cutting Circuit - Maximum Flow

16 gal/min

60 l/min

Throat Force

203.7 Sh Ton

1,812 kN

Apex Force

73.4 Sh Ton

653 kN

Jaw Opening

9.4 in

240 mm

Rotation Circuit - Maximum Relief Pressure

1,450 psi

10,000 kPa

Cycle Time - Close

93.0 in

93.0 mm

2.5 Seconds
Jaw Design
Unique straight lower jaw design effectively enhances the cutting force by facilitating the spreading out of steel along the length of the jaw, maximizing the shear cutting force.
360° Rotation
Operator can spin the jaws 360 degrees in either direction to quickly position the jaws for a cut.
Reversible Knives
The four main, side and front knives are fully reversible with four effective cutting edges.
Easy Maintenance
Large access panels on the top, bottom, and sides of the shear housing make it easier to service inside components.
Protected Cylinder
Design of the shear housing provides full protection of the cylinder throughout the complete cutting cycle.
Completely Cat®
Only Cat® offers an integrated machine-hydraulics-shear system supported by Cat from front to end, throughout the life of the system.
Machines built tough and ready to run in rugged applications

Trusted advisors to help you find and maximize your equipment

Wide inventory of rental equipment that lets you try before you buy

Full service and support to ensure performance and longevity
YOU MIGHT ALSO BE INTERESTED IN