Engine Model
93.0 hp
Cat C15
Operating Weight
87,600 lb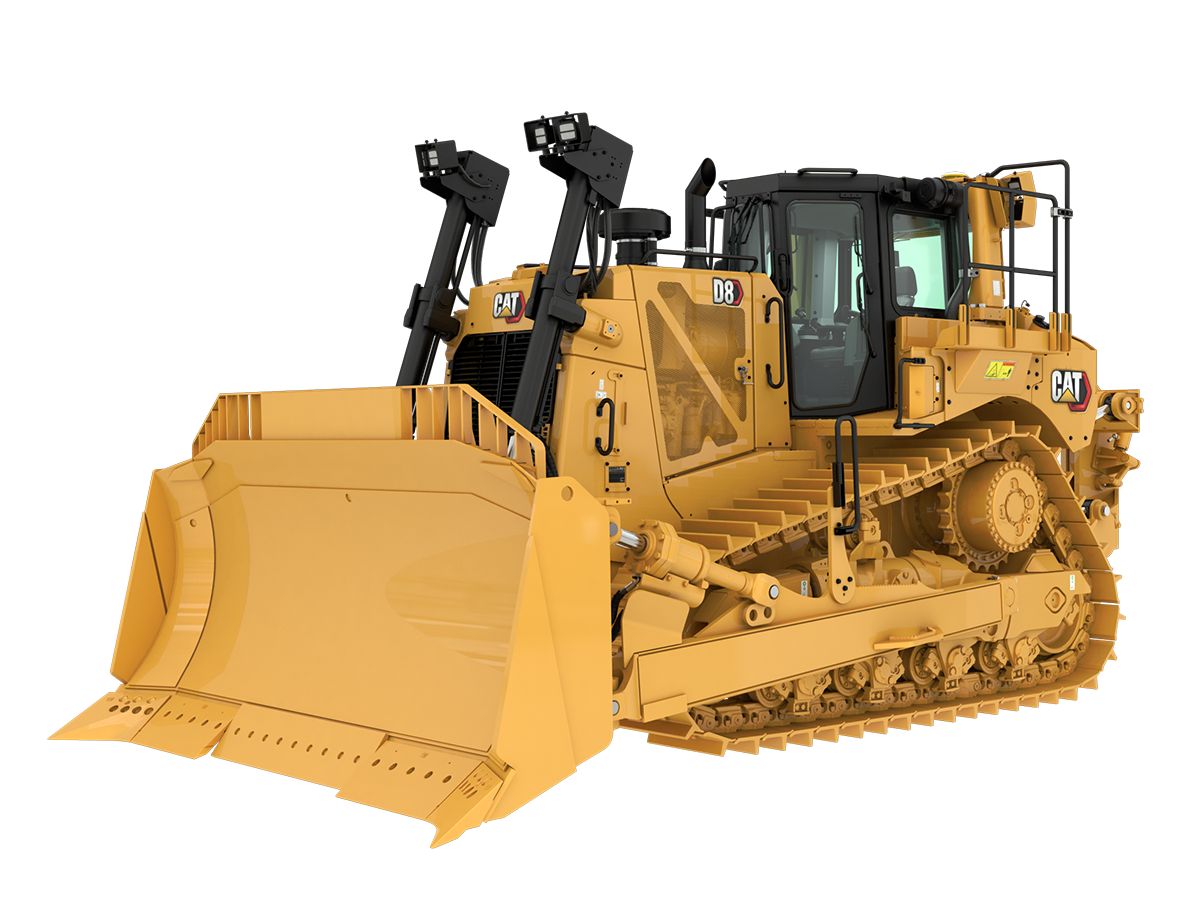 Engine Model
93.0 hp
Cat C15
Operating Weight
87,600 lb
Specifications
The Cat ® D8 dozer (formerly D8T) increases your dozing productivity up to 18% without using more fuel. This means you can move more material in less time, at a lower cost per ton, so you get a faster payback on your equipment investment. The D8 bulldozer offers unprecedented ease of operation as well. A Caterpillar designed, smooth shifting, fully automatic 4-speed transmission makes it easy for operators of all experience levels to achieve optimal productivity and efficiency without having to manage gear shifts. Factory integrated Grade technology options help you get quality work done even faster, from first pass to finish grade, while relying less on operator input.
Engine Model

93.0 in

93.0 mm

Cat C15

Power - Net

354 HP

264 kW

Net Power - ISO 9249/SAE J1349

354 HP

264 kW

Net Power - ISO 9249 (DIN)

359 mhp

359 mhp

Emissions

93.0 in

93.0 mm

U.S. EPA Tier 4 Final/EU Stage V/Korea Tier 4 Final

Build Number

93.0 in

93.0 mm

21B

Note (1)

93.0 in

93.0 mm

Net power at 1,900 rpm. Net power advertised is the power available at the engine flywheel when the engine is equipped with a fan, air cleaner, clean emissions module and alternator. Advertised power is tested per the specified standard in effect at the time of manufacture.

Note (2)

93.0 in

93.0 mm

All non-road Tier 4 Interim and Final, Stage IIIB, IV and V, Japan 2014 (Tier 4 Final) and Korea Tier 4 Final diesel engines are required to use only Ultra Low Sulfur Diesel (ULSD) fuels containing 15 ppm EPA/10 ppm EU (mg/kg) sulfur or less. Biodiesel blends up to B20 (20% blend by volume) are acceptable when blended with 15 ppm (mg/kg) sulfur or less ULSD. B20 should meet ASTM D7467 specification (biodiesel blend stock should meet Cat biodiesel spec, ASTM D6751 or EN 14214). Cat DEO-ULS or oils that meet the Cat ECF-3, API CJ4, API CK-4 and/or ACEA E9 specification are required. Consult your OMM for further machine specific fuel recommendations.

Note (3)

93.0 in

93.0 mm

Diesel Exhaust Fluid (DEF) used in Cat Selective Catalytic Reduction (SCR) systems must meet the requirements outlined in the International Organization for Standardization (ISO) standard 22241.
Air Conditioning

93.0 in

93.0 mm

The air conditioning system on this machine contains the fluorinated greenhouse gas refrigerant R134a (Global Warming Potential = 1430). The system contains 2.5 kg of refrigerant which has a CO2 equivalent of 3.575 metric tonnes.
Operating Weight

87,600 lb

39,750 kg
Power Train

93.0 in

93.0 mm

Fully Automatic 4-Speed Powershift
Fuel Tank

165 gal (US)

627 l
Operating Weight

88,698 lb

40,233 kg

Ground Pressure

13 psi

91 kPa

Width of Standard Shoe

24 in

610 mm

Blade

93.0 in

93.0 mm

Semi-Universal (SU)

Blade Capacity

13 yd³

10 m³
Operating Weight

84,906 lb

38,513 kg

Ground Pressure

8 psi

55.3 kPa

Width of Standard Shoe

38 in

965 mm

Blade

93.0 in

93.0 mm

Semi-Universal (SU)

Blade Capacity

12.9 yd³

9.9 m³
Operating Weight

88,206 lb

40,010 kg

Ground Pressure

13 psi

91 kPa

Width of Standard Shoe

24 in

610 mm

Blade

93.0 in

93.0 mm

Semi-Universal (SU) Landfill

Blade Capacity

21 yd³

28 m³
Operating Weight

93,672 lb

42,489 kg

Ground Pressure

8.8 psi

61 kPa

Width of Standard Shoe

38 in

965 mm

Blade

93.0 in

93.0 mm

Semi-Universal (SU) Landfill

Blade Capacity

27.9 yd³

21.2 m³
NOTE

Power Train

C15 Diesel Engine, Electronic Unit Injection (EUI), Aftertreatment to meet U.S. EPA Tier 4 Final/Korea Tier 4 emission standards

24V electric start

Air-to-air aftercooler (ATAAC)

Air filter with electronic service indicator

Extended life coolant

Auto reversing suction fan

Four planet, double-reduction planetary final drives

Electric fuel priming pump

High performance single plane cooling system

Electronic parking brake

Precleaner, strata-tube dust ejector

Prescreener

Shift management: Full Auto Shift

Sound attenuated exhaust system

Automatic ether starting aid

Torque divider with lock-up clutch

Transmission control module, electronic

Transmission, electronically-controlled powershift

Turbocharger

Water separator

Operator Environment

Access/egress lighting with shutdown timer

Adjustable armrests

Air suspension seat

Cab, ROPS/FOPS, sound suppressed

Decelerator pedal

Heater and ventilation

Interior LED courtesy lights

Rearview mirror

Provision for wire passage in/out of cab

Radio, AM/FM, Bluetooth

ROPS mounted air conditioner

Seat belt, retractable

Steering control, direction and speed control thumb switches with recall button

Touch screen operator interface: Electronic monitoring system, Diagnostic service information, Operator preferences

Wipers, intermittent

Cat Technology

Grade control ready

Compatibility with radios and base stations from Trimble, Topcon, and Leica

Capability to install 3D grade systems from Trimble, Topcon, and Leica

Power Train, Engine, Brakes

Brakes, Basic or Extreme Service

Engine precleaner, basic or with screen

Bottom Guards

Electrical

Back-up alarm

Converter, 24V to 12V

Diagnostic connector

Ground level service center with hour meter

Horn, forward warning

Final Drives

Final drives: LGP or Guarded

Final drives: Standard, Guarded or Arctic

Hydraulics

Dozer tilt and fan hydraulics: Single Tilt or Dual Tilt

Electronically enabled quick drop valve

Hydraulics, electronically controlled, load-sensing dozer lift and tilt

Hydraulics, electronically controlled, load-sensing rear hydraulics, ripper or winch ready

Hydraulics, independent steering and work tool pumps

Other Standard Equipment

Engine compartment service light

Equalizer bar, pinned

Front pull device

Hinged bottom guards

HVAC box, corrosive resistant

Product Link

S-O-S sampling ports

6-light package

Electronically controlled power differential steering

Vandalism protection for fluid compartments

Starters, Batteries, And Alternators

Alternators: 150 Amp, Basic or Ducted

Batteries: Heavy duty or Arctic

Engine coolant heater (120V)

Starting receptacle, auxiliary

Undercarriage

Positive Pin Retention Track (44 Section, sealed and lubricated, single grouser shoes)

610 mm (24 in) Extreme Service track

8-roller tubular track roller frame (Carrier roller ready)

Gauge arrangements: Standard or LGP

Rollers and idlers, lifetime lubricated

Sprocket rim segments, replaceable

Suspension-type undercarriage

Track adjusters, hydraulic

Track guide

Two-piece master links
NOTE

Power Train, Engine, Brakes

C15 Diesel Engine, Electronic Unit Injection (EUI), Aftertreatment to meet EU Stage V emission standards

Engine, thermal shield

Oil change system, high speed

Radiator, 6.35 fins per inch, debris

Operator Environment

Cab glass: Single pane, Enhanced Dual Pane or 40 psi

Cab platform: Standard, Quick Opening or 5th Percentile

Cab seat: Cloth, heated

Cab seat: Heated and ventilated

Visibility arrangements: Basic or Single camera

Cat Technology

Attachment Ready Option (ARO), single tilt or dual tilt

AutoCarry/AutoRip, single tilt or dual tilt

Cat Grade with 3D

Command for Dozing Ready

Machine control, basic, single tilt or dual tilt

Product Link: Cellular or Dual mode

Bulldozers

8A

8SU LGP

8SU/U: basic, guarded or dual tilt guarded

8U LGP: single tilt guarded or dual tilt guarded

Blades

Angle Blade

LGP Angle

LGP SU

LGP SU Landfill

Semi-Universal (SU)

SU Landfill with Wear Plate

SU with Performance Cutting Edges

SU with Push Plate

SU with Rock Guard, Performance Cutting Edges

SU with Rock Guard, Wear Plate

Universal

Universal Landfill

Universal with Rock Guard, Wear Plate

Undercarriage

Positive Pin Retention (PPR) Undercarriage: Suspended, Guarded or Arctic

610 mm (24 in) Moderate Service PPR Track

610 mm (24 in) Super Extreme Service PPR Track

610 mm (24 in) Extreme Service PPR Track, trapezoidal

660 mm (26 in) Moderate Service PPR Track

660 mm (26 in) Extreme Service PPR Track

660 mm (24 in) Extreme Service PPR Track, trapezoidal

660 mm (24 in) Super Extreme Service PPR Track, trapezoidal

711 mm (28 in) Moderate Service PPR Track

711 mm (28 in) Extreme Service PPR Track

711 mm (28 in) Moderate Service PPR Track, trapezoidal

711 mm (28 in) Extreme Service PPR Track, trapezoidal

965 mm (38 in) Moderate Service PPR Track

965 mm (38 in) Extreme Service PPR Track

965 mm (38 in) Extreme Service PPR Track, trapezoidal

Heavy duty, extended life undercarriage track (44 Section, sealed and lubricated, single grouser shoes)

Heavy duty, extended life undercarriage: Suspended, Guarded or Arctic

610 mm (24 in) Moderate Service HDXL Track

610 mm (24 in) Extreme Service HDXL Track

610 mm (24 in) Super Extreme Service HDXL Track

660 mm (26 in) Extreme Service HDXL Track

660 mm (26 in) Extreme Service HDXL Track, trapezoidal

711 mm (28 in) Extreme Service HDXL Track

965 mm (38 in) Extreme Service HDXL Track

965 mm (38 in) Extreme Service HDXL Track, trapezoidal

Carrier rollers: Suspended, Suspended Arctic or No carrier rollers

Bottom Guards

Bottom guards with front counterweight

Heavy duty, sealed

Powered

Wood chip

Electrical

Light, warning strobe

Lighting groups: Basic, Premium or Sweeps

Mount, light, warning strobe

Guards

Fan debris guard

Fast fuel guard

Fuel tank guard

Grill debris guard

Rear screen

Front striker bars

Sweeps group

Hydraulics

Other Attachments

Black paint, blade

Additional counterweight

Ecology drains

Grab handles, push arm

PA140VS winch

W12 E PTO winch

Window shades

Rear Attachments

Rear counterweight

Rigid drawbar

Multi-shank ripper

Multi-shank ripper with striker bar

No rear attachment

PA140VS winch, variable speed

Rear striker bar

Single shank ripper with pin puller

Single shank ripper with puller and striker bar

Single shank ripper with striker bar

Ripper Shank Teeth

Multi-shank

Single shank

Single shank, deep ripping
Every purchase backed by a full menu of service and support offerings

Flexible financing options designed to fit your budget

Commitment to providing expert training to maximize operations

Value Agreements to ensure proper maintenance and performance
YOU MIGHT ALSO BE INTERESTED IN