Mini Excavators
303.5E2 CR Hydraulic Excavator
Operating Weight
8,209 lb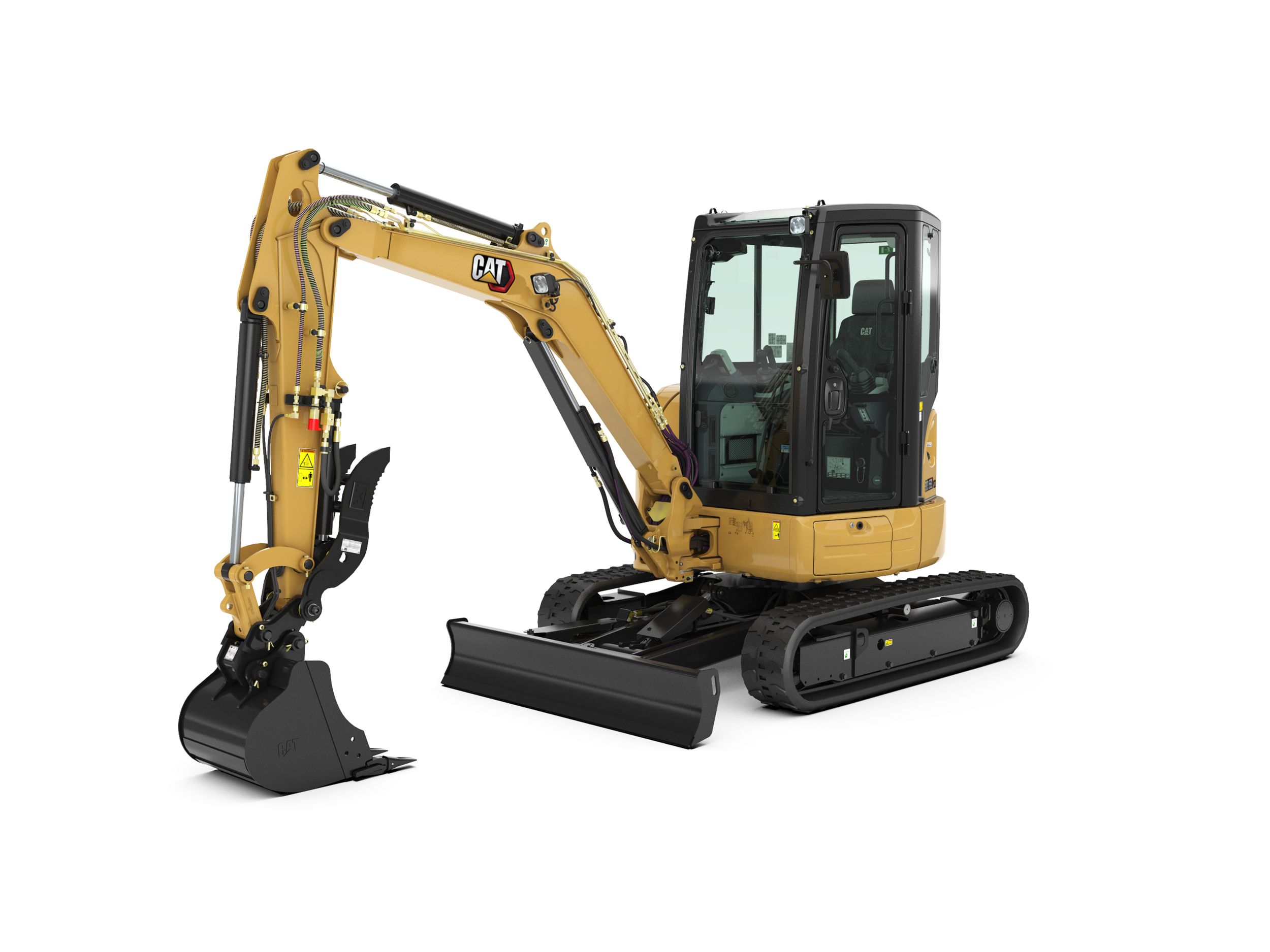 backhoe loader
303.5E2 CR Hydraulic Excavator
Operating Weight
8,209 lb
Specifications
The Cat E2 Series Mini Hydraulic Excavators are designed to carry on the solid performance of their E Series predecessors, while adding even greater value for the customer. The new High Definition Hydraulic (HDH) System, redesigned operator station and enhanced digital control panel specially designed for Cat Mini Excavators – COMPASS (Complete, Operation, Maintenance, Performance And Security System) – are all standard features that improve performance and increase value.
Cooling System

1.5 gal (US)

5.5 l

Engine Oil

1.8 gal (US)

7 l

Hydraulic Tank

11.2 gal (US)

42.3 l

Fuel Tank

12.2 gal (US)

46 l

Hydraulic System

17.2 gal (US)

65 l
Operating Weight

8,209 lb

3,723 kg

Operating Weight - With Cab

8,209 lb

3,723 kg

Operating Weight - With Canopy

7,803 lb

3,539 kg

Note

93.0 in

93.0 mm

Weight includes rubber tracks, bucket, operator, full fuel and auxiliary lines.
Net Power

23.5 HP

17.5 kW

Engine Model

93.0 in

93.0 mm

Cat® C1.7

Gross Power

24.8 HP

18.5 kW

Displacement

104 in³

1.7 l

Rated Net Power - ISO 9249

23.5 HP

17.5 kW

Note

93.0 in

93.0 mm

Cat C1.7 engine meets U.S. EPA Tier 4 Final/EU Stage IIIB emission standards.

Net Power - ISO 9249

23.5 HP

17.5 kW
Ground Pressure

4.6 psi

31.7 kPa

Maximum Traction Force - Low Speed

6,992 lbf

31.1 kN

Maximum Traction Force - High Speed

3,822 lbf

17 kN

Travel Speed - High

2.9 mile/h

4.6 km/h

Travel Speed - Low

2 mile/h

3.2 km/h
Note

93.0 in

93.0 mm

Flow and pressure are not combinable. Under load, as flow rises pressure goes down.

Digging Force - Stick - Standard

4,249 lbf

18.9 kN

Operating Pressure - Travel

3,553 psi

245 bar

Operating Pressure - Swing

3,132 psi

216 bar

Digging Force - Stick - Long

3,799 lbf

16.9 kN

Type

93.0 in

93.0 mm

Load Sensing Hydraulics with Variable Displacement Piston Pump

Pump Flow at 2,200 rpm

26.4 gal/min

100 l/min

Maximum Auxiliary Circuit - Secondary - Flow at Pump

6.6 gal/min

25 l/min

Maximum Auxiliary Circuit - Primary - Pressure at Pump

3,553 psi

24,500 kPa

Digging Force - Bucket

7,419 lbf

33 kN

Maximum Auxiliary Circuit - Secondary - Pressure at Pump

3,553 psi

24,500 kPa

Operating Pressure - Equipment

3,553 psi

245 bar

Maximum Auxiliary Circuit - Primary - Flow at Pump

15.9 gal/min

60 l/min
Machine Swing Speed

10 r/min

10 r/min

Boom Swing - Left - With Stop

93.0 in

93.0 mm

55°

Swing - Right

93.0 in

93.0 mm

50°

Boom Swing - Left - Without Stop

93.0 in

93.0 mm

80°
Maximum Dig Depth

125 in

3,180 mm
ENGINE

Cat C1.7 Tier 4 Final diesel engine

Automatic engine idle

Automatic engine shut-off

Automatic two speed travel

Fuel and water separator

HYDRAULIC SYSTEM

1-way and 2-way (combined function)

Accumulator

Automatic swing parking brake

Auxiliary hydraulic lines

Adjustable auxiliary relief

Auxiliary line quick disconnects

Cat interlock system: hydraulic lockout

Continuous auxiliary flow

Ecology drain

Hydraulic oil cooler

High definition hydraulics

Load sensing/flow sharing

OPERATOR ENVIRONMENT

100% pilot control ergonomic joysticks

Adjustable armrests

COMPASS: complete, operation, maintenance, performance and security system – Multiple languages

Cup holder

Hydraulic neutral lockout bar

Literature holder

Site reference system: leveling

Tool storage area

Travel control pedals with hand levers

Washable floor mat

UNDERCARRIAGE

Dozer blade with float function

Track, rubber belt, 300 mm (12 in) width

Tie down eyes on track frame

Towing eye on base frame

FRONT LINKAGE

200 degree bucket rotation

Certified lifting eye on bucket linkage

Front shovel capable

Thumb ready stick

ELECTRICAL

12 volt electrical system

60 ampere alternator

650 CCA maintenance free battery

Fuse box

Ignition key start/stop switch

Slow blow fuse

Warning horn

LIGHTS AND MIRRORS

SAFETY AND SECURITY

Anti-theft system (compass)

Caterpillar Corporate "One Key" System

Door locks

Lockable fuel cap

Retractable seat belt

Roll Over Protective Structure (ROPS) (ISO 12117-2)

Tip Over Protective Structure (TOPS) (ISO 12117)

Top guard – ISO 10262 (Level 1)

Travel alarm
ENGINE

HYDRAULIC SYSTEM

Quick coupler lines

Boom lowering check valve

Stick lowering check valve

Secondary auxiliary hydraulic lines

OPERATOR ENVIRONMENT

UNDERCARRIAGE

Power angle blade

Track, double grouser (steel), 300 mm (12 in)

FRONT LINKAGE

Quick coupler: manual or hydraulic

Thumb

Buckets

Full range of performance matched work tools – Auger, hammer, ripper

LIGHTS AND MIRRORS

Light, cab with time delay capability

Mirror, canopy right

Mirror, canopy left

Mirror, cab rear

SAFETY AND SECURITY

Battery disconnect

Beacon socket

Front wire mesh guard

Rearview camera

Vandal guard

TECHNOLOGY
Every purchase backed by a full menu of service and support offerings

Flexible financing options designed to fit your budget

Commitment to providing expert training to maximize operations

Value Agreements to ensure proper maintenance and performance
YOU MIGHT ALSO BE INTERESTED IN