Mini Excavators
304 Mini Excavator
Operating Weight
9,867 lb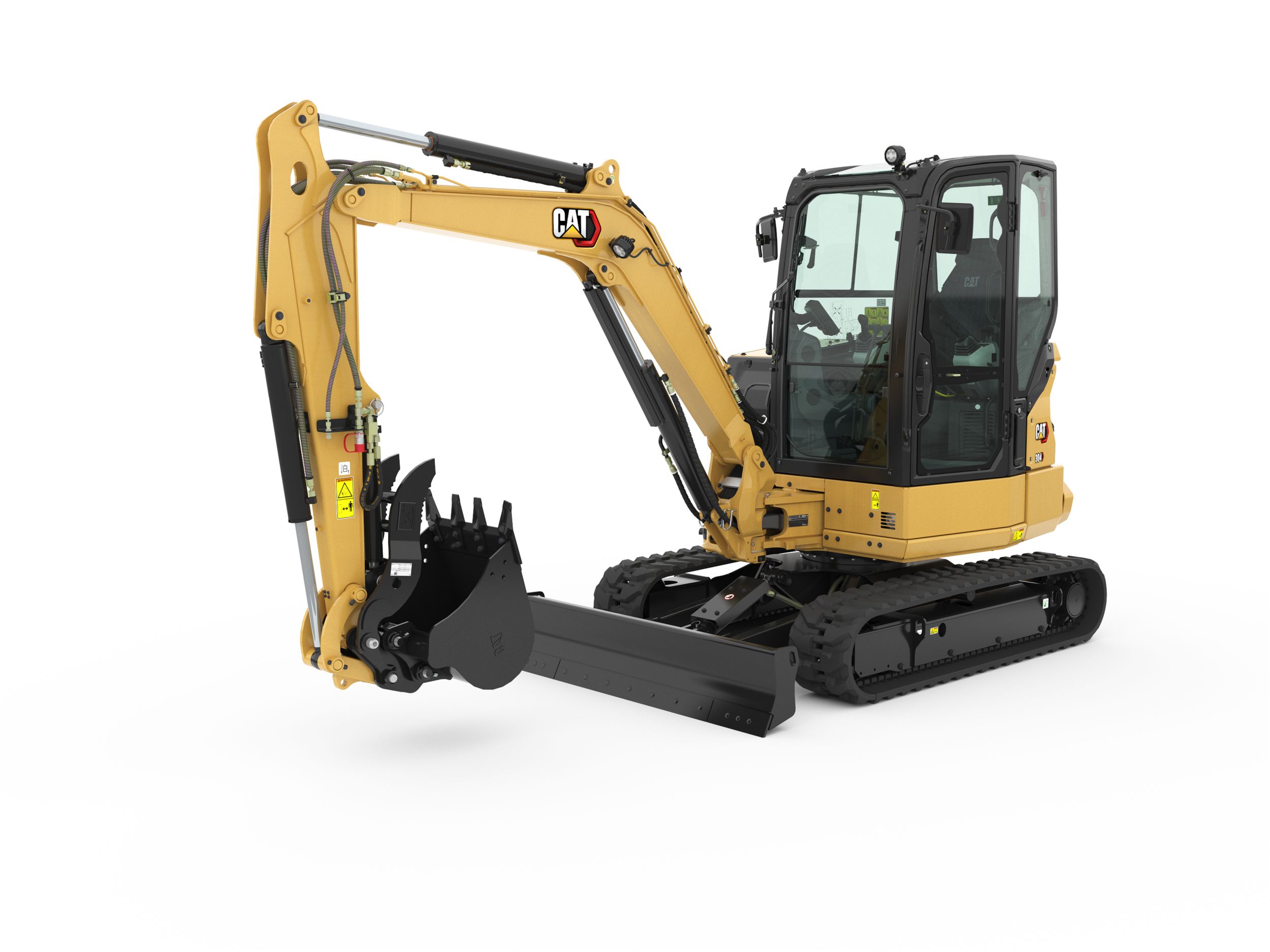 backhoe loader
304 Mini Excavator
Operating Weight
9,867 lb
Specifications
The Cat® 304 Mini Excavator delivers power and performance in a compact size to help you work in a wide range of applications.
Engine Model

93.0 in

93.0 mm

C1.7 Turbo

Gross Power - 2,400 rpm - SAE J1995:2014

48.4 HP

36.1 kW

Emissions

93.0 in

93.0 mm

Meets U.S. EPA Tier 4 Final and EU Stage V emission standards.

Displacement

101 in³

1.662 l

Net Power - 2,400 rpm - ISO 9249, 80/1269/EEC

45 HP

33.6 kW

Note

93.0 in

93.0 mm

Net power advertised is the power available at the flywheel when the engine is at rated speed and rated power when the engine is installed with the factory configured fan, air intake system, exhaust system, and alternator with a minimum alternator load.
Average Exterior Sound Pressure (ISO 6395:2008)

97 dB(A)

97 dB(A)

Operator Sound Pressure (ISO 6396:2008)

76 dB(A)

76 dB(A)

Note

93.0 in

93.0 mm

European Union Directive "2000/14/EC"
Maximum Reach - Ground Level

204.7 in

5,200 mm

Vertical Wall

94.3 in

2,395 mm

Note

93.0 in

93.0 mm

*Overall Shipping Length depends on blade position during shipment.

Tail Swing with Counterweight

51.2 in

1,300 mm

Boom In Reach

88.8 in

2,255 mm

Dig Depth

126.4 in

3,210 mm

Maximum Dig Height

198.4 in

5,040 mm

Maximum Blade Height

16.5 in

420 mm

Swing Bearing - Height

21.9 in

557 mm

Boom Swing - Left

20.9 in

530 mm

Stick Length

54.9 in

1,395 mm

O/A Undercarriage Length

87 in

2,210 mm

Track Belt/Shoe Width

13.8 in

350 mm

Boom Height - Shipping Position

63.8 in

1,620 mm

Boom Swing - Right

28.7 in

730 mm

Maximum Dump Clearance

143.5 in

3,645 mm

Ground Clearance

12 in

305 mm

Maximum Reach

209.8 in

5,330 mm

O/A Shipping Height

100 in

2,540 mm

Tail Swing without Counterweight

47.4 in

1,205 mm

Maximum Blade Depth

18.7 in

475 mm

Overall Shipping Length*

194.9 in

4,950 mm
Dig Depth

138.2 in

3,510 mm

Maximum Blade Depth

18.7 in

475 mm

O/A Shipping Height

100 in

2,540 mm

Maximum Dump Clearance

147.2 in

3,740 mm

Stick Length

66.7 in

1,695 mm

Maximum Dig Height

201.8 in

5,125 mm

Maximum Reach - Ground Level

214.4 in

5,445 mm

Track Width

66.9 in

1,700 mm

Tail Swing with Counterweight

51.2 in

1,300 mm

Swing Bearing - Height

21.9 in

557 mm

Boom Height - Shipping Position

75.2 in

1,910 mm

Boom Swing - Left

20.9 in

530 mm

Maximum Reach

219.3 in

5,570 mm

Boom In Reach

92.1 in

2,340 mm

Boom Swing - Right

28.7 in

730 mm

Track Belt/Shoe Width

13.8 in

350 mm

Vertical Wall

99.8 in

2,535 mm

Maximum Blade Height

16.5 in

420 mm

Note

93.0 in

93.0 mm

*Overall Shipping Length depends on blade position during shipment.

Overall Shipping Length*

194.9 in

4,950 mm

Ground Clearance

12 in

305 mm

O/A Undercarriage Length

87 in

2,210 mm

Tail Swing without Counterweight

47.4 in

1,205 mm
Operating Weight

9,867 lb

4,475 kg

Minimum Operating Weight with Canopy*

8,655 lb

3,925 kg

Maximum Operating Weight with Canopy**

9,647 lb

4,375 kg

Note (2)

93.0 in

93.0 mm

**Maximum Weight is based on steel tracks, operator, full fuel tank, long stick, straight blade, extra counterweight and no bucket.

Note (1)

93.0 in

93.0 mm

*Minimum Weight is based on rubber tracks, operator, full fuel tank, standard stick, straight blade, no bucket and no extra counterweight.

Maximum Operating Weight with Cab**

9,867 lb

4,475 kg

Minimum Operating Weight with Cab*

8,875 lb

4,025 kg
Steel Tracks

430 lb

195 kg

Counterweight

496 lb

225 kg

Angle Blade

243 lb

110 kg
Ground Pressure - Minimum Weight

4.2 psi

28.7 kPa

Maximum Traction Force - Low Speed

7,329 lbf

32.6 kN

Travel Speed - Low

2.2 mile/h

3.5 km/h

Ground Pressure - Maximum Weight

4.9 psi

33.8 kPa

Travel Speed - High

3.2 mile/h

5.2 km/h

Maximum Traction Force - High Speed

4,271 lbf

19 kN

Gradeability - Maximum

93.0 in

93.0 mm

30 degrees
Cooling System

2.9 gal (US)

11 l

Engine Oil

1.6 gal (US)

6 l

Hydraulic System

17 gal (US)

65 l

Fuel Tank

17 gal (US)

63 l

Hydraulic Tank

14 gal (US)

52 l
Operating Pressure - Travel

3,553 psi

245 bar

Auxiliary Circuit - Secondary - Pressure

3,553 psi

245 bar

Digging Force - Stick - Long

4,316 lbf

19.2 kN

Auxiliary Circuit - Secondary - Flow

7 gal/min

28 l/min

Pump Flow at 2,400 rpm

25 gal/min

96 l/min

Operating Pressure - Swing

2,611 psi

180 bar

Auxiliary Circuit - Primary - Flow

21 gal/min

65 l/min

Auxiliary Circuit - Primary - Pressure

3,553 psi

245 bar

Note

93.0 in

93.0 mm

Flow and pressure are not combinable. Under load, as flow rises pressure goes down.

Type

93.0 in

93.0 mm

Load Sensing Hydraulics with Variable Displacement Piston Pump

Digging Force - Stick - Standard

4,721 lbf

21 kN

Digging Force - Bucket

8,588 lbf

38.2 kN

Operating Pressure - Equipment

3,553 psi

245 bar
Boom Swing - Right

93.0 in

93.0 mm

50 Degrees

Machine Swing Speed

9 r/min

9 r/min

Boom Swing - Left

93.0 in

93.0 mm

78 Degrees
Angle Blade Height

14.2 in

360 mm

Straight Blade Height

14.2 in

360 mm

Straight Blade Width

66.9 in

1,700 mm

Angle Blade Width

66.9 in

1,700 mm

Angle Blade - Right

93.0 in

93.0 mm

25 Degrees

Angle Blade - Left

93.0 in

93.0 mm

25 Degrees
Roll Over Protective Structure (ROPS)

93.0 in

93.0 mm

ISO 12117-2:2008

Top Guard

93.0 in

93.0 mm

ISO 10262:1998 (Level I)

Tip Over Protective Structure (TOPS)

93.0 in

93.0 mm

ISO 12117:1997
ENGINE

Cat® C1.7 Turbo Engine (U.S. EPA Tier 4 Final/EU Stage V)

Automatic Engine Idle

Automatic Engine Shutdown

Automatic Two Speed Travel

Fuel Water Separator

Power on Demand (not available in all regions)

Variable Displacement Piston Pump

Load Sensing/Flow Sharing Hydraulics

HYDRAULICS

Smart Tech Electronic Pump

Accumulator

Automatic Swing Brake

Auxiliary Hydraulic Lines

One and Two Way Auxiliary Flow

Continuous Auxiliary Flow

Auxiliary Line Quick Disconnects

OPERATOR ENVIRONMENT

Canopy or Cab (Canopy not available in some regions)

Top Guard ISO 10262:1998 Level I

ROPS – ISO 12117-2:2008

TOPS – ISO 12117:1997

Stick Steer Mode

Travel Cruise Control

Control Pattern Changer (optional in some regions)

Adjustable Wrist Rests

Washable Floor Mat

Travel Pedals and Hand Levers

Machine Security – Standard Key with Pass Code

Fabric Suspension Seat (Cab only)

Vinyl Suspension Seat (Canopy only)

Hydraulic Lockout – All Controls

Retractable High Visibility Seat Belt (75 mm/3 in)

Coat Hook

Cup Holder

Storage Pocket

Skylight

Mounting Bosses for Front

Signaling/Warning Horn

Interior Light (Cab only)

Boom Light, Halogen (not available in all regions)

Utility Space for Mobile Phone

Next Generation Color LCD Monitor (IP66) – Fuel Level and Coolant Temperature Gauges – Maintenance and Machine Monitoring – Performance and Machine Adjustments – Numeric Security Code – Multiple Languages – Hour Meter with Wake Up Switch – Jog Dial (cab only)

UNDERCARRIAGE

Rubber Belt (350 mm/13.8 in)

Dozer Straight Blade

Dozer Blade Float

Tie Downs on Track Frame

BOOM, STICK AND LINKAGES

One Piece Boom (2500 mm/98.4 in)

Standard Stick (1395 mm/54.9 in)

Front Shovel Capable – Pin-On

Thumb Ready

Certified Lifting Eye

ELECTRICAL

12 Volt Battery

Software (machine and monitor)

Maintenance Free Battery

Battery Disconnect

12 Volt Power Socket

Travel Alarm (optional in some regions)

OTHER
OPERATOR ENVIRONMENT

Cab with Air Conditioning

Cab with Heater

No Travel Pedals and Hand Levers (optional in some regions)

Machine Security – Push to Start with Key Fob/Pass Code

LED Front Lights

LED Front and Rear Lights

LED Boom Light

Mirrors, Left, Right and Rear

Camera

Radio – Bluetooth®, Auxiliary, Microphone, USB (charging only) (Cab only)

Next Generation Advanced Monitor – Touch Screen – Site Reference System – High Definition Camera Capable (IP68 and IP69K) – Numeric Security Code

UNDERCARRIAGE

Steel Track (350 mm/13.8 in)

Steel Track with Rubber Pads

Angle Blade

BOOM, STICK AND LINKAGES

Long Stick (1695 mm/66.7 in)

Front Shovel Capable – Dual Lock Manual Coupler

Front Shovel Capable – Hydraulic Coupler

Attachments including Couplers, Thumbs, Buckets, Augers and Hammers

2nd Auxiliary Hydraulic Lines

Bucket Divert Lines

Boom Lowering Check Valve

Stick Lowering Check Valve

Hydraulic Quick Coupler Lines

ELECTRICAL

Product Link™ PL243 (regulations apply)

Product Link PLE643 (regulations apply)

GUARDING

Polycarbonate Half Height Front Guard (Canopy only)

Polycarbonate Front Guard (ISO 10262:1998 Level I and EN356 P5A)

Heavy Duty Front Guard ISO 10262:1998 Level II

Heavy Duty Top Guard 10262:1998 Level II (Cab only)

OTHER

Bio Oil Capable

Eco Drain

Water Jacket Heater
Every purchase backed by a full menu of service and support offerings

Flexible financing options designed to fit your budget

Commitment to providing expert training to maximize operations

Value Agreements to ensure proper maintenance and performance
YOU MIGHT ALSO BE INTERESTED IN