Track Loaders
953 Track Loader
Operating Weight
34,594 lb
Capacity - General Purpose
2.4 yd³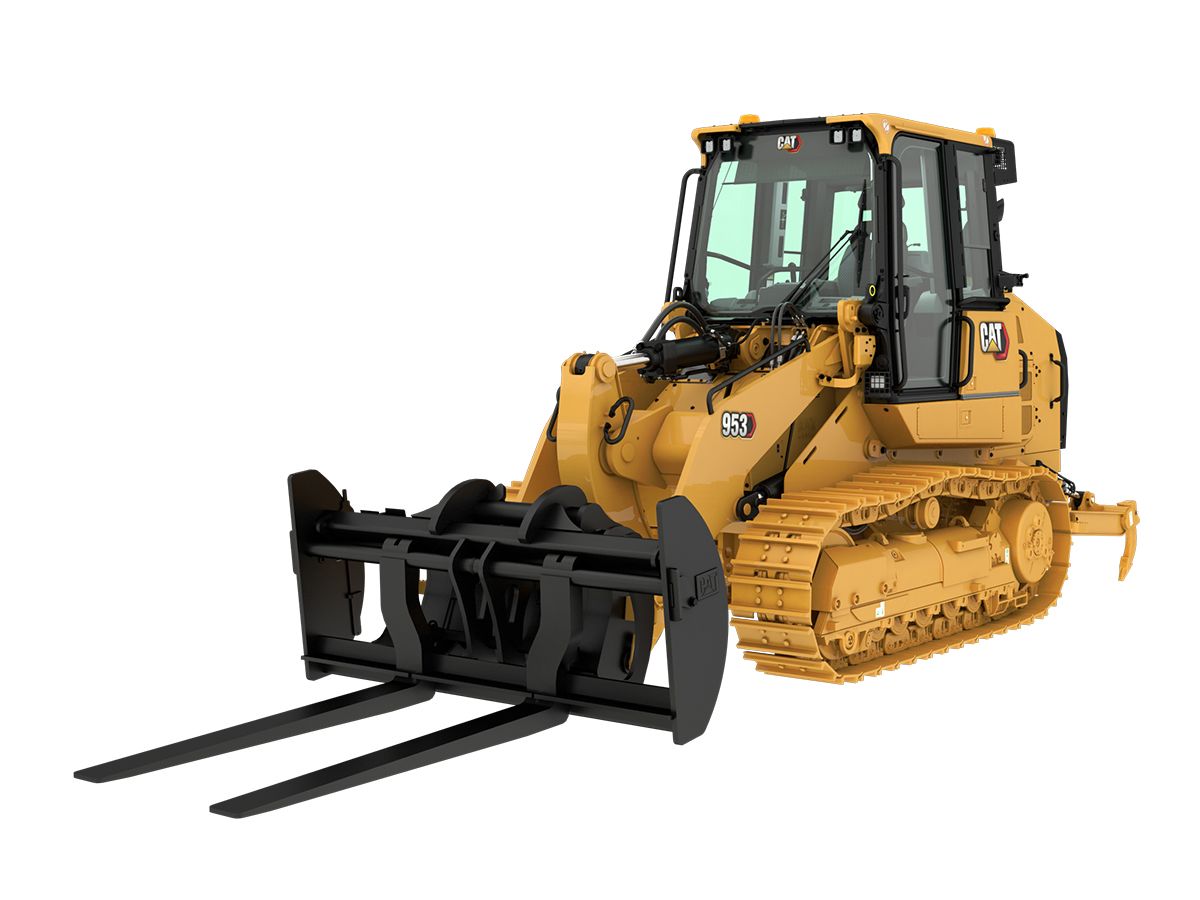 backhoe loader
953 Track Loader
Operating Weight
34,594 lb
Capacity - General Purpose
2.4 yd³
Specifications
Save money and transport time with one rugged machine that does it all – land clearing, digging, grading, truck loading, slope work and more. Crawler loaders give you lower ground pressure and better traction so you can start the job sooner, and work longer, in all kinds of underfoot conditions. Cat® Track Loaders give you all this, plus outstanding performance and fuel efficiency.

Flywheel Power

160 HP

119 kW

Engine Model

93.0 in

93.0 mm

Cat C7.1

Net Power - ISO 9249/SAE J1349

160 HP

119 kW

Net Power - ISO 9249/SAE J1349 (DIN)

162 mhp

162 mhp

Emissions

93.0 in

93.0 mm

U.S. EPA Tier 4 Final/EU Stage V/Japan 2014/Korea Tier 4 Final

Note (1)

93.0 in

93.0 mm

All non-road Tier 4 Interim and Final, Stage IIIB, IV and V, Japan 2014(Tier 4 Final) and Korea Tier 4 Final diesel engines are required to use onlyUltra Low Sulfur Diesel (ULSD) fuels containing 15 ppm EPA/10 ppm EU(mg/kg) sulfur or less. Biodiesel blends up to B20 (20% blend by volume)are acceptable when blended with 15 ppm (mg/kg) sulfur or less ULSD.B20 should meet ASTM D7467 specification (biodiesel blend stock shouldmeet Cat biodiesel spec, ASTM D6751 or EN 14214). Cat DEO-ULS™ or oils that meet the Cat ECF-3, API CJ-4, and ACEA E9 specificationare required. Consult your OMM for further machine specific fuelrecommendations.

Note (2)

93.0 in

93.0 mm

Diesel Exhaust Fluid (DEF) used in Cat Selective Catalytic Reduction (SCR) systems must meet the requirements outlined in the International Organization for Standardization (ISO) standard 22241.

Note (3)

93.0 in

93.0 mm

Engine power at 1,800 rpm. The net power advertised is the power available at the flywheel when the engine is equipped with fan running up to maximum speed, alternator, air cleaner and aftertreatment. Net power is tested per ISO 9249:2007 and SAE J1349:2011.
Air Conditioning

93.0 in

93.0 mm

The air conditioning system on this machine contains the fluorinated greenhouse gas refrigerant R134a (Global Warming Potential = 1430). The system contains 1.1 kg of refrigerant which has a CO2 equivalent of 1.573 metric tonnes.
Operating Weight

34,594 lb

15,692 kg
Fuel Tank

70 gal (US)

265 l

DEF Tank

4.2 gal (US)

16 l
Operating Weight

35,181 lb

15,958 kg

Width of Standard Shoe

20 in

480 mm

Ground Contact Area

3,720 in²

2.4 m²

Ground Pressure

10 psi

66 kPa
Operating Weight

38,055 lb

17,261 kg

Width of Standard Shoe

31.5 in

800 mm

Ground Contact Area

6,045 in²

3.9 mm²

Ground Pressure

6 psi

43 kPa
Operating Weight

35,662 lb

16,176 kg

Width of Standard Shoe

20 in

480 mm

Ground Contact Area

3,720 in²

2.4 m²

Ground Pressure

10 psi

67 kPa
Overall Machine Length*

251.1 in

6,378 mm

Overall Machine Width without Bucket: With Standard Tracks - 550 mm (21.6 in) Shoes

91.2 in

2,316 mm

Machine Height - Top of Cab

124.2 in

3,156 mm

Reach at Full Lift Height and 45° Dump*

41.4 in

1,053 mm

Clearance at Full Lift Height and 45° Dump*

111.7 in

2,838 mm

Height - Bucket Hinge Pin

142.1 in

3,608 mm

Ground Clearance

16.3 in

413 mm

Ramp Angle

93.0 in

93.0 mm

29°

Note

93.0 in

93.0 mm

*With General Purpose pin-on bucket
Track Gauge

72.3 in

1,836 mm

Track on Ground

90 in

2,286 mm

Track Rollers/Shoes - Each Side

93.0 in

93.0 mm

6/37
Capacity - General Purpose

2.4 yd³

1.8 m³

Capacity - Multi-Purpose

2.1 yd³

1.6 m³

Capacity - Performance Series

2.7 yd³

2.1 m³

Width - General Purpose

97.8 in

2,485 mm

Width - Multi-Purpose

97.3 in

2,471 mm

Width - Performance Series

99.8 in

2,536 mm
NOTE

Power Train

Cat C7.1 Diesel Engine

Meets U.S. EPA Tier 4 Final/EU Stage V/Japan 2014/Korea Tier 4 Final emission standards

Biodiesel compatible up to B20

Hydraulic demand fan

Hydrostatic transmission

Load sensing implement pump

Modular cooling system

Operator Environment

12V power outlet and 5V USB port

Adjustable armrests

Full-color 254 mm (10 in) liquid crystal touchscreen display

Grab handle on dash

Heat/Air conditioning

Integrated rearview HD camera

Lights - 4 halogen

Pressurized, sound suppressed, ROPS/FOPS Cab with tinted glass and sliding window

Radio ready

Storage areas throughout cab

Cat Technology

Slope Indicate

Remote Flash/Troubleshoot

Operator ID

Undercarriage

Caterpillar Heavy Duty undercarriage

Oscillating track roller frames

Buckets

Service and Maintenance

4 x 2 Easy tie-down points on chassis

Ecology drains

Ground level service center

Hinged radiator guard and swing out fan

Shovel holder
NOTE

Operator Environment

Special application cab with dual pane/polycarbonate window

Deluxe seat

Premium seat

Joystick or two-lever implement controls

Joystick or V-lever-and-pedal steering controls

Radio ready

Radio AM/FM Bluetooth

Radio AM/FM/DAB+ Bluetooth

Radio AM/FM/Sirius XM Bluetooth

Communication Radio Ready

Lights - 2 LED front/bottom of cab, access light

Lights - 8 LED

LED flashing beacon

Cat Technology

Product Link, Cellular

Machine Security - Passcode

Machine Security - Bluetooth

Product Link -- Dual Cellular/Satellite

Undercarriage

Cat Abrasion undercarriage

Waste or Low Ground Pressure (LGP) undercarriage

Buckets

Fusion quick coupler

General Purpose bucket

Landfill bucket

Multi-Purpose bucket

Performance bucket

Service and Maintenance

Fast fuel fill

High Speed oil change

Hydraulic reversing fan

Hydraulic tilt cab

Refueling pump

Underhood work light

Attachments

Bumper

Counterweights

Multi-shank ripper

Ripper hitch

Ripper-ready rear hydraulics

Striker bar box

Waste Handler, Ship Hold and Low Ground Pressure Special Arrangements
Every purchase backed by a full menu of service and support offerings

Flexible financing options designed to fit your budget

Commitment to providing expert training to maximize operations

Value Agreements to ensure proper maintenance and performance
YOU MIGHT ALSO BE INTERESTED IN